Why Should You Look for Solar Inspection Services?
1- Enhance Solar System Performance.
2- Avoid Any Corrosion to your Solar System by avoiding delamination by gearing into one of our solar panel ( PV ) maintenance program.
3- Third Party Inspection for the installed System to assure that best panel has been procured for you
Solar Photovoltaics for Thermography Testing overview:
Photovoltaics (PV) or known as Solar Pv are terms that mean the conversion of light photons to electricity using semiconducting cells. A typical solar PV system employs solar panels, each comprising a different number of solar cells. These solar cells are the means that convert light to electricity.
One of the most common renewable energy that has a wide range of advantages as a renewable energy source is a Solar PV system. It has no pollution and no Green House Gas emission.
The PV System is dependent on sunlight or on another term dependent on the efficiency f the solar cell used. The solar panel or the solar cell might have the standard issue that we in Digital Thermal can find using a list of
Un Visible Cell Failure that can be detected using our Solar PV Inspection Services
Overheated cells in each of the PV panel or solar panel hot spots can deteriorate the material of the casing and cause delamination. Delamination is one of the significant concerns in solar PV panel where the bond between ts layer separates allowing moisture and air to creep inside causing a severe deterioration in its life.
Shade or defective cells can be a reason for overheating and a reason for power consumption instead of power generation.
Common Solar Panel fault:
✔ Defective bypass diodes
✔ Short circuits and falling connections
✔ Penetration of moisture and dirt
✔ Cracked cells or glass cracks
✔ Failed or disconnected modules
✔ Mismatched panels with different capacities
✔ Loose contacts and wiring faults
✔ Wear and tear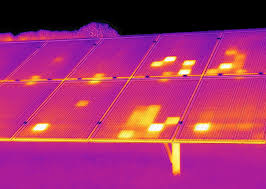 Types of Solar Panel Inspection we can offer in Solar PV Testing or How To Test a Solar Panel?
✔ Solar Panel Thermography Testing for Solar PV
There is more than one technique to detect a failure in PV module and thermal imaging for Solar Panels is the most efficient and quick detection system that is used on for solar panel testing or Solar Panel Repair. Emitted Infrared radiation from solar panels can be easily changed to a visible thermogram which then used to identify hot spots cells in the panel. Outside laboratory conditions, where each panel is tested using specialized equipment including electro-luminance, the infrared thermography represents the best and faster technology to evaluate the status of each PV panel and all electrical junction boxes. The Thermography Inspection using Infrared will assist in the location your losses occurring from an open circuited cell, short-circuited cell, shadowing effect, massive shunt caused by potential induced degradation ( PID), sub-string failure, Delaminated cells, cracked cells, disconnected cells and faulty bypass diodes.
✔ IV Curve Testing for solar Pv
✔ I-V Curve Tracer of Solar photovoltaic systems
✔ I-V Curve tester or as named solar tester allows the detection of the 1500 V string IV Curve in the field, and this will protect your investment.